Develop Your Personal Practice
5 Week Course: Live Online
This nurturing course will support you in establishing or deepening your own personal yoga practice.
The course takes place live online on 5 Saturday mornings, as follows:
10.00am-12.30pm
6th November
13th November
20th November
27th November
4th December
Action precedes motivation.  By practicing yoga, we feel the benefits and are motivated to make it a regular habit. This course is practice-based, with expert instruction and guidance from Senior Yoga Tutors Clare Bassett and Paula Flood.  We will cover yoga postures (asana) and alignment principles, pranayama (breath), relaxation and meditation as well as  introducing yoga philosophy. We will help you to discover how to integrate yoga into your life in a way that supports and sustains you.
Week 1: Introduction- why self practice?  Establishing Your own Daily Practice, What is Yoga?
Week 2: Yoga Asana Fundamentals, Obstacles to practice
Week 3: Yoga Breathing: exploring the natural breath, what is pranayama?
Week 4: The Art of Stillness: Meditation, Yoga Nidra, Body Scan
Week 5: An Introduction to Yoga Philosophy, Eight Limbs , Yamas and Niyamas. Yoga in Your Life: Next Steps
Sessions will be recorded and recordings available for 7 days but it is best if you can attend live
Cost: €300  (Half price for a limited time, €150).
Book
Here
via our secure booking system
Mindful Yoga Teacher Training
Training to be a yoga teacher will transform and enrich your life. It is a journey of self-discovery, at times intense but always rewarding.  During this unique and accredited 200-hour online training course we will lovingly guide you through the life-changing journey of becoming a yoga teacher.
The course will nurture your personal growth as well as your professional development, giving you the skills to teach yoga safely, mindfully and with joy.
Mindful Yoga is a gentle practice that encourages awareness of subtle sensations and acceptance of the body as it is.  Mindful Yoga is therefore ideally suited to a live-online training environment, where physical adjustments are not applicable. Instead, students are invited to let go of tension, to let go of the desire to 'do' the perfect pose. This way of practicing builds body awareness, interoception and sensitivity so that students can make safe choices about how to proceed in any given pose. This approach gives the student a sense of agency over their own body which in turn has significant psychological benefits.
Highlights include:
Open Day – learn more about the course, meet the tutors and ask questions (on 14th August 2021)
33 days in total, 12 weekends and 9 Saturdays, outstanding live online training with highly experienced tutors, 180 contact hours
Combines yoga's ancient wisdom with the latest research in anatomy and neuroscience
Training videos to facilitate home practice
Study pods with fellow students
20 hours of practical anatomy, specifically tailored to yoga
Professional support in designing and teaching your first six-week course
Guided exploration into the depth and relevance of yoga philosophy
Heart-driven business module to help you get started
Internationally recognized best practice accreditation with Yoga Alliance Professionals UK
Mentoring and graduate support
The 200-hour training requires you to attend 180 hours of live online training, delivered via Zoom. This is spread over 33 days in total, 12 weekends and 9 Saturdays. For more information, download the course brochure here, fill out the application form below or email info@omyoga.ie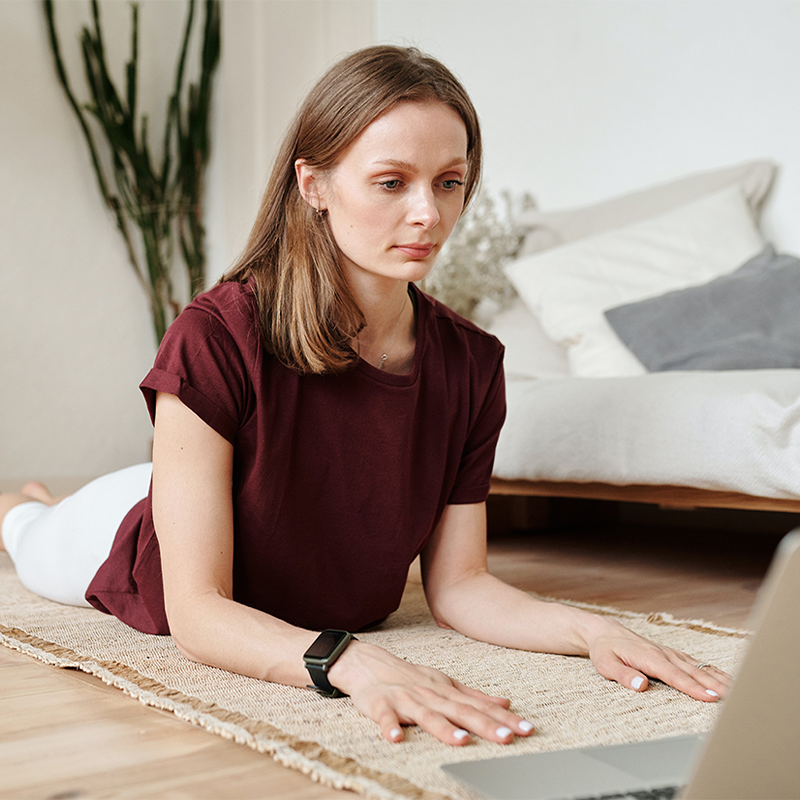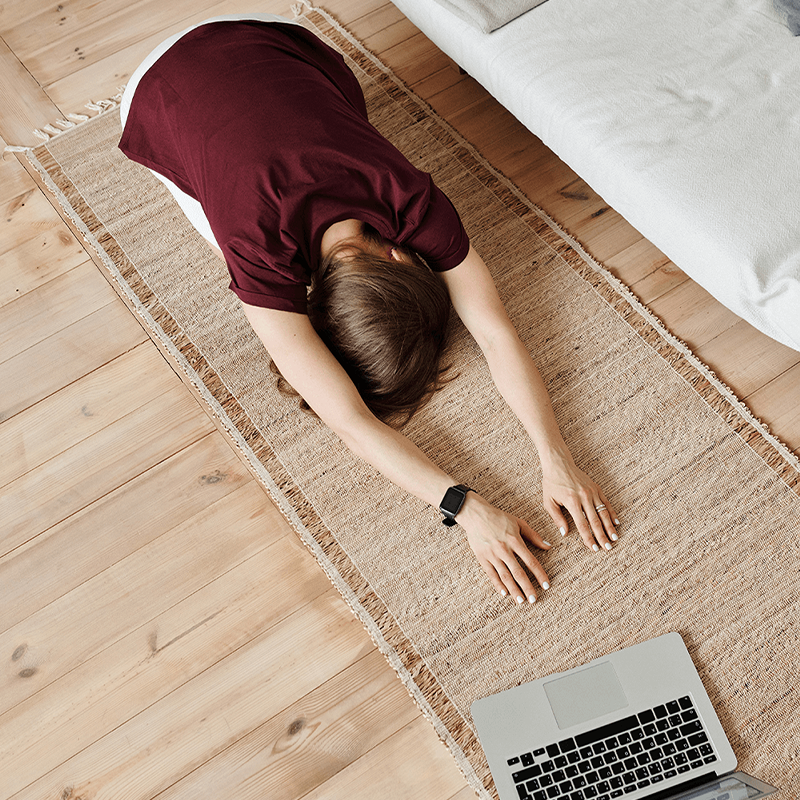 Course Syllabus 
module one – yoga asana, pranayama, meditation and yoga nidra
Classical asanas, alignment and variations, establishing your self-practice (tailored yoga to you), pranayama, meditation and

mindfulness practices, mantra and mudras, yoga nidra
module two – teaching skills
Being the teacher, ethics of teaching, clear cueing, lesson planning and sequencing, students' needs, observing and adjusting, teaching practice, mindful reflection and self care, creative course planning
module three – applied anatomy and physiology
Structural alignment, bones and joints, the respiratory system, the nervous system and stress response, yoga and the human mind-body.
module four – philosophy and history
The

 

history of yoga, Patanjali's eight limbs, yamas and niyamas, prana and the subtle energy body, the chakras, the ethics of yoga, the history and philosophy of mindfulness, self-reflective journaling and accountability.
module five – being a yoga professional and ethical business
Pricing your classes, booking a venue or teaching online, karma yoga and core values, getting your message clear, picking your platform and sharing your message to attract students, insurance and accreditation, record keeping and tax, continued professional education.
'The teachers are excellent and it has a lovely vibe – not at all intimidating! The atmosphere is supportive and nurturing. I would highly recommend it!'
'The trainers include some of the best teachers I have ever had. I have received knowledge for life, on many different levels. Finally I understand more about anatomy. The anatomy training now informs not just my yoga classes but my fitness and conditioning classes too.'
'Whether you're looking to become a yoga teacher or simply want to deepen your practice, the yoga teacher training course is the way to go.  I cannot recommend it highly enough if you want to change your life for the better.  The quality of the teaching was second to none.  Paula has been an inspiration and I am so grateful she has guided me on my yoga journey.'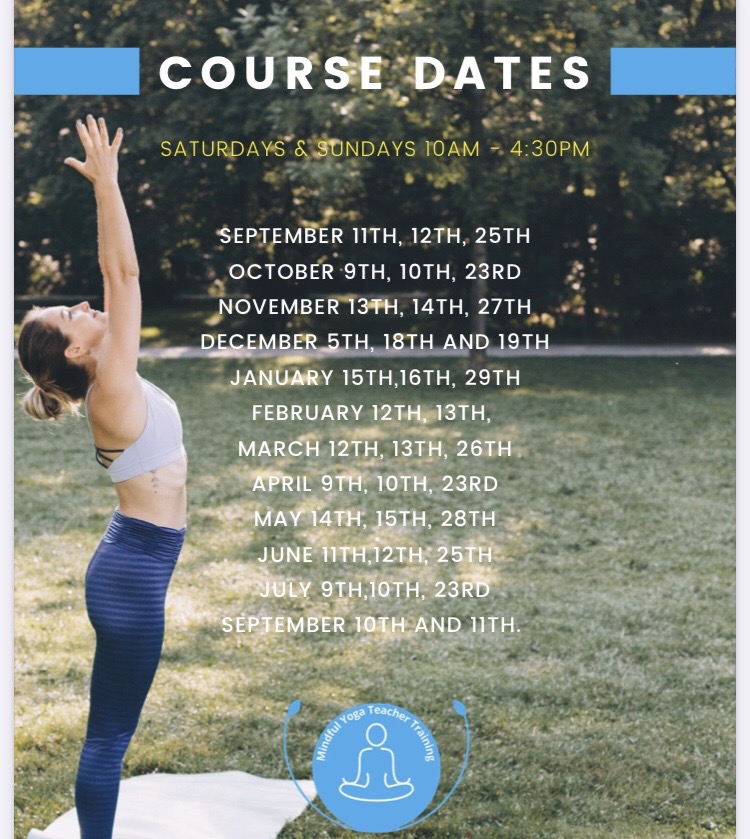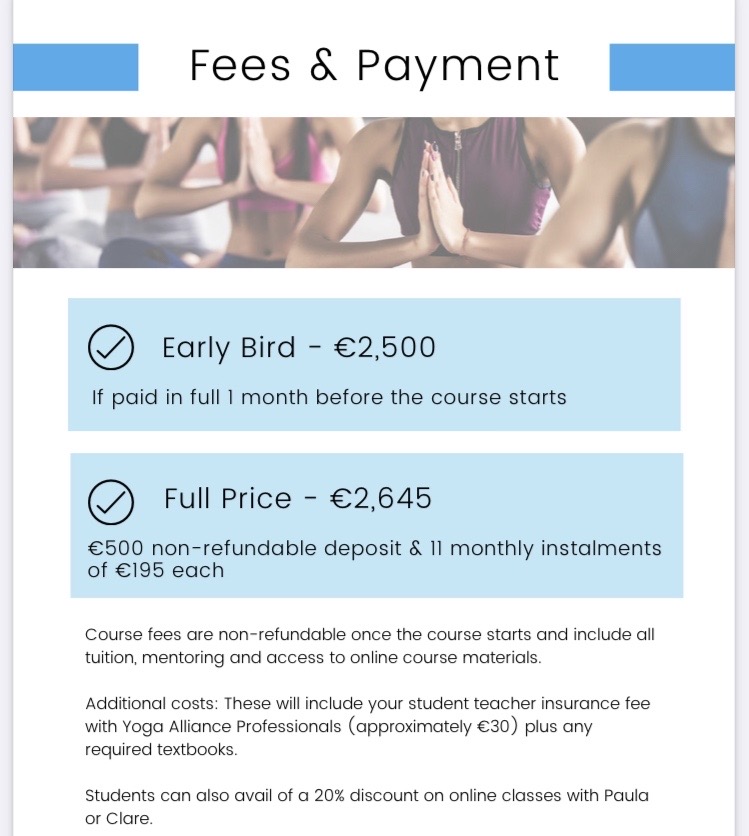 Teacher Training Application